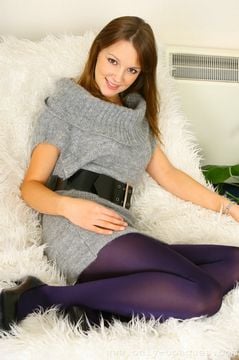 We have the cute and sexy Jasmine N today. Jasmine is wearing an electric pair of purple pantyhose underneath her grey minidress. Also Jasmin has on a pair of orange lace french knickers and bra.I really love the colors – each layer is a new treat. Who wouldn't mind curling up with her on that soft blanket, running your hands up and down her pantyhose.
Click here to see the free preview pictures of Jasmine N in her purple pantyhose. Visit Only Opaques and see all of her sexy pictures. Jasmine N is just one of the many hotties in pantyhose and stockings featured at Only Opaques. These lovely ladies with long luscious legs are waiting for you.
It looks like we all made it through the week. I'm out of here for today – but check back over the weekend for more of the lovely ladies from Only Opaques.