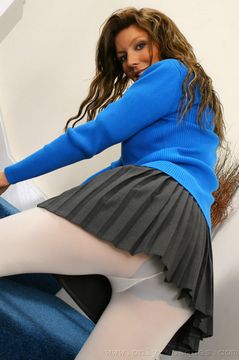 Nicole makes a very sultry and sexy college coded. Nicole is wearing a colorful college uniform from her blue sweater to white pantyhose this outfit really gets your attention – and hopefully a lot more. For those paying close attention you'll notice underneath Nicole has on a sexy bra and panty set – black with pink trim. Check out this gallery from Only Opaques of Nicole taking everything off except her panties and pantyhose.
You can see more of Nicole at Only Opaques. Only Opaques is the premier site for hot babes in sexy pantyhose, stockings and leg wear. If you like the way pantyhose looks, or maybe how the nylon fabric feels – you'll love Only Opaques.
At other pantyhose and stockings sites, you'll notice the focus is on the pantyhose for maybe a few pictures but after the first page you ever notice how the girl is almost never still wearing the pantyhose. If you ask me that's not a real nylons fetish site. At Only Opaques the focus is on the pantyhose or stockings as much as it is on the hottie and her curves.