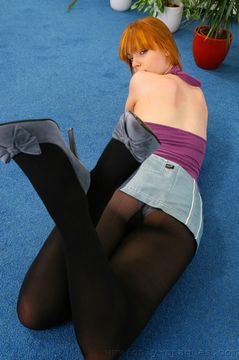 Blondes are always fun. Brunettes have a sultry look about them. But it's the redheads that seem to slip by too often. Check out the sexy photos of this stunning redhead named Fi. In this photo set for Only Opaques, Fi is wearing a pair of black pantyhose underneath her denim miniskirt and cute purple halter top. By the end of this photo set, this redhead is topless and showing off her beautiful pantyhose covered legs and amazing figure.
Make sure you visit Only Opaques and see lots more of this sultry redhead. There's lots more of her to enjoy inside the site. Of course if redheads aren't your cup of tease make sure you check out all the sexy blondes and seductive brunettes. Whatever the hair color, you can bet they're wearing erotic leg wear.
One of my friends is simply in love with Fi. Every time I see him, he asks me if I've set up a date for him with Fi. Sorry, not yet. He'll have to visit Only Opaques just like everyone else.