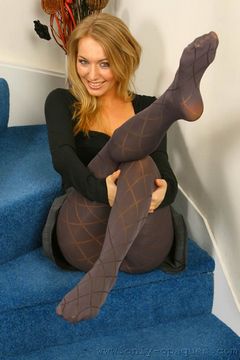 How is everyone today? I'm a little stressed but nothing too crazy. I'm really looking forward to the weekend. However, the way things are going right now it looks like I might just have to be working on the weekend too!
Anyways, I'm sure you don't want to hear me complain. You're hear to listen to me complain. I think you'd much rather see the lovely Hayley Marie in grey patterned pantyhose. Hayley is also wearing a sexy black top, a grey miniskirt and kinky black boots. A rather sexy combination. However, I don't think you'll mind too much when she strips out of the outfit and is wearing only her pantyhose and panties.
You can see the complete set inside Only Opaques. Come find out why Only Opaques is the number one site for beautiful babes in sheer pantyhose and stockings. If you love this gallery of Hayley, you're going to love Only Opaques. Come check it out today!