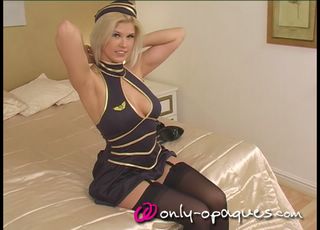 Today at Only Opaques there's an exciting video of the sultry blonde Amy G. It looks like after a long day of flying, this naughty Air Stewardess is ready to get out of her uniform.
I have to say, if the stewardesses looked like Amy G, dressed like, especially that low cute top and sexy black stockings, there wouldn't be any plance that would have empty seats. I have a feeling men would be flying, just to take a look at all of the sexy stewardess. I definitely know there would suddenly be a lot more business trips.
Download the video inside Only Opaques. There's a full resolution video that is 61.4 mb or a low resolution version that is 9.1 mb. Right now Only Opaques has 204 videos for you to download enjoy. And of course that's in addition to their extensive collection of photos. If you love sexy babes in sexy legwear, you're going to love Only Opaques. Click here to take the free Only Opaques tour.