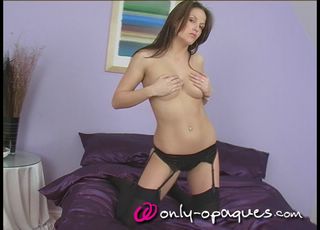 Today at Only Opaques you can download and watch this video of Cindy Lee. This sexy brunette babe is showing off her black stockings in this erotic video. She's wearing a black top, miniskirt and long black boots, all of that is sexy, but nothing compares to her black stockings. She has wonderful legs and she definitely takes time to show them in this video.
Right now there are 210 videos at Only Opaques for you to enjoy. Click here to start downloading the hours worth of erotic videos. Each of these videos revolve around the theme of erotic leg wear like Cindy Lee's stockings or pantyhose or even tights. If you're looking for a site that caters to gentlemen who like beautiful women erotic leg wear, you've found the site you're looking for.
Check out the free Only Opaques toursright now.