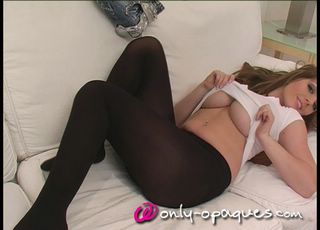 At Only Opaques today you can check out this exciting video of Elena C. It looks like she's read for a night out on the town. The extra busty brunette bombshell is wearing black pantyhose under her denim miniskirt. Of course, I also have to mention her skin tight white t-shirt that accentuates her voluptuous figure.
Download and enjoy the video at Only Opaques. There you can see Elena C come to life, stripping out of her clothes. She leaves only her black pantyhose on in this video. Elena is just one of the many beautiful babes in sexy pantyhose and stockings at Only Opaques. Click here to join in all the fun.
Well, I hope everyone has an exciting weekend planned. Even if you're not heading out with Elena C in this sexy outfit, I hope you find ways to make it memorable.