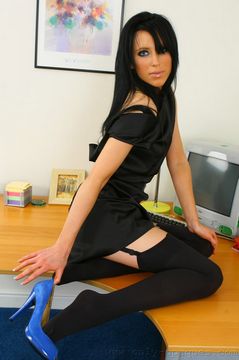 I know that there's a lot of people not happy to be back at work today. I know it's not a lot of fun to be stuck in an office, especially on a Monday when you just want to go back to sleep.
However, I think this Only Opaques gallery featuring Felix will definitely wake up anyone that's feeling sleep and definitely make the day much more interesting. In this gallery, the black haired hottie is wearing a very smart looking secretary outfit. She's wearing black mindress with black stockings and a pair of bright blue shoes.
Ready to make your day even more interesting. Head over to Only Opaques today and see more of this sultry secretary and all of her friends. All of the Only Opaques models are wearing erotic leg wear like stockings and pantyhose. You don't want to miss out on this fun.