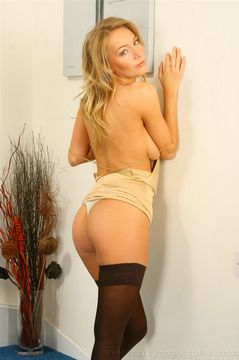 Check out these exciting Only Opaque photos of Hayley Marie. She's teasing in a sexy cream colored evening dress and sheer black stockings. It's the kind of outfit that would make most men do a double take if they were out and about and saw Hayley Marie. She looks down right stunning, and that's even before I start talking about her stockings. The evening dress teases, showing off her figure while at the same time accentuating her above average knockers and pristine derriere.
You can see more of Hayley Marie, including more photos of her in her sexy evening dress at Only Opaques. There you can watch her slip out of the dress and show off her beautiful body while only wearing a tiny thong and stockings.
I hope everyone had a great weekend. If not, maybe this photo set featuring Hayley Marie will make it end on a high note.