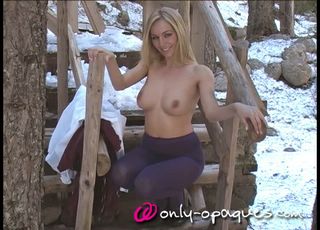 Hayley Marie didn't feel in the right frame of mind to go to class today, so she skipped school. She was feeling way to naughty to sit inside all day long. So, instead she made a sexy video for Only Opaques.
In this video from Only Opaques, Hayley Marie is braving the chilly weather and teasing out of her college uniform. Underneath her uniform, this busty blonde babe is wearing a pair of purple pantyhose.
This video comes from the last day that the models were in Bulgaria last winter. It looks like even with the cold they had a lot of fun. Click here to download this video of Hayley Marie at Only Opaques. And while you're there make sure to check out all of the sexy photos and naughty videos from the trip to Bulgaria.