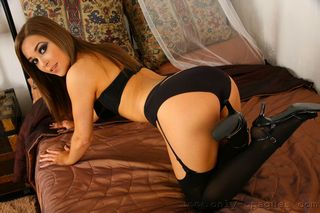 Home after a night on the town, Loora strips out of her clothes, getting ready for bed. I'm sure wherever she went, with her breath taking looks, she was the center of attention. Now, we get to see what all the men flirting with her were dreaming about.
Today at Only Opaques, you can see Loora wearing a stunning red dress with black stockings. She slides out of the dress and reveals her sexy black lingerie – black strapless bra and matching panties. Watching her roll around on the bed in just her stockings and lingerie is an amazing sight.
Loora has been a long-time fixture at Only Opaques. It's not hard to see why she's so popular with her cute, yet very sexy looks, stunning body and legs that look amazing in nylons. Visit Only Opaques to see more of Loora and get to know all of the models featured there. They're all wearing pantyhose or stockings and they definitely know how to treat a guy that is into women in nylons.