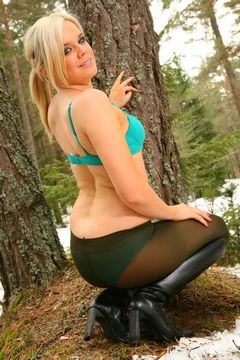 It may be cold outside, but Maria F is definitely making things hot. It looks like she's literally melting away the snow with her sexy outfits and stunning looks.
Today at Only Opaques, you can see a gallery of this sexy blonde, Maria F in a pair of brown colored pantyhose. She's also wearing a pair of sexy black boots and a beige minidress. However, as you can see not even cold weather is going to stop this model from stripping out of her clothes. It's not long before she's down to just her bra and panties. And soon she even loses the bra, leaving only her panties, pantyhose and boots on.
Visit Only Opaques today to see all of the sexy photos in this erotic photo gallery. Maria F is just one of the many models featured at Only Opaques wearing erotic pantyhose, stockings or tights.