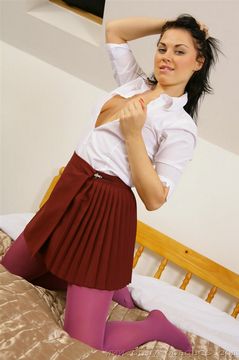 Monica Harris stopped by Only Opaques the other day. She left us with these very sexy pictures of her in a college uniform and pink pantyhose. Monica has some sultry looks, a delicious body but most importantly devine legs that look amazing in pantyhose. If you were curious, by the end of this photo shoot Monica was only wearing the pantyhose.
Monica Harris has been featured in Playboy, Loaded magazine and many more places, but today we have her all to ourselves. Click here to see all of Monica's exclusive Only Opaques photos. And Monica Harris is just one of many well-known ladies to stop by and show off their legs.
Only Opaques has the hottest collection of models in erotic legwear. If you don't believe me, check it out for yourself. The tour is free and it won't bite. Unless you're into that sort of thing.