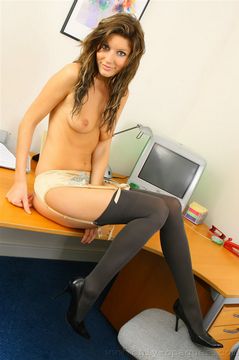 I don't think I'll ever get tired of sexy secretaries in stockings or pantyhose, especially when the secretary is Nicole. Today from Only Opaques we have an erotic photo gallery of Nicole in pair of grey stockings. Of course she didn't come to work wearing just her stockings. At one point she was wearing a black blouse and grey miniskirt. Underneath she had a cream colored satin bra with matching thong and garter. As you can see more of that has now disappeared.
Meet the sexiest girls in sexy legwear at Only Opaques. Only Opaques has beautiful and stunning models like Nicole in sheer pantyhose, naughty stockings and even erotic tights. If you love beautiful babes in erotic legwear, you'll love Only Opaques.
And on that note, I have to run. It's Sunday but I have so many things to get done before the weekend is over. I hope everyone is having a good weekend and I'll see you at the office on Monday.