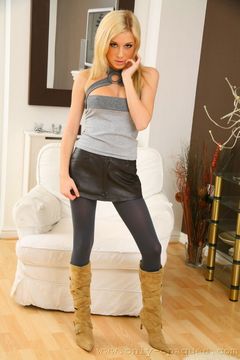 Wow, is the only way that I can describe the way Tindra looks in this sexy outfit. She looks absolutely stunning in her clubbing outfit and grey pantyhose. I have no doubt that she would get a lot of attention at any dance club she went to wearing this sensual outfit.
Along with her grey pantyhose, Tindra is wearing a black leather miniskirt, sexy grey top and long, almost knee-length boots. It's definitely the kind of outfit that demands attention. However, I don't think anyone will complain when she starts taking off the outfit. By the end of this Only Opaques photo shoot, Tindra is only wearing her panties and pantyhose, showing off her above average boobs.
You can see the entire set of this busty blonde bombshell inside Only Opaques today. It's Tindra's third time being featured at Only Opaques with one other video set and a naughty video in her portfolio. I hope it won't be the last time we're seeing her.